Continuous Professional Invoices & Statements (Color Logo & Color Imprint )
Looking for more professional-looking business checks
& forms with the latest Security Features & Low Prices?
Check with Sterling Business Services!
We can match your software program - even custom formats!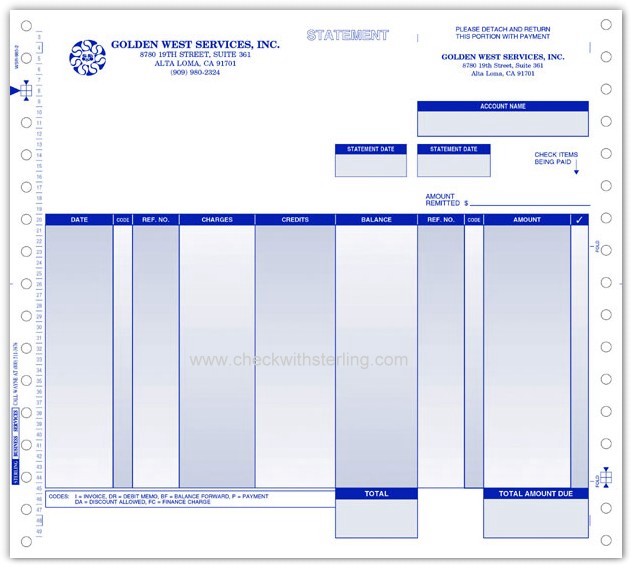 Samples: Web Graphics may not always display colors and patterns accurately.
To see the high quality of our Check & Forms, please contact us to request samples.
New orders include: an Order Confirmation, and
"paste-up" Proof for your approval or changes! ...See Details!

Contact us for pricing on larger quantities.




Continuous Professional
Voucher Checks

354.00

608.00

Continuous Professional
Checks Only

Laser Professional
Invoices / Statements

9.5" x 11" Forms

45.00

95.00

162.00

199.00

1 Part / 50 Per Book

2 Parts NCR / Pink Copy

3 Parts NCR / Canary/Pink
Free Double-Window Envelopes:
As a new customer, one free box of 500 compatible double-windowed envelopes will be shipped to you freight-free with your initial order of imprinted laser or continuous business checks. This offer applies to most popular formats.
Free Company Logos:
For a more professional appearance, your company's logo can be added to your imprinted checks and forms at no additional charge. Please e-mail us your logo in most any format. Remember that the quality of your e-mail logo will determine the quality of your imprint. Line art should be at least 300 d.p.i., grayscale at least 600 d.p.i.. We are do our best to accommodate but do not offer free graphic changes to your logo.
Free Shipping:
As a new customer, one initial imprinted laser or continuous business check order, up to 10,000 quantity, will be shipped Freight-Free via FedEx Ground to any of the lower 48 U.S. States. If more than one imprinted check order is being placed, free freight offer will apply to the largest quantity order.
No State Sales Tax:
State sales tax only apply to California deliveries. Deliveries to all other US States will receive non-taxable client status.
We look forward to hearing from you!