LASER STANDARD BUSINESS CHECKS
1. Your Company Logo & Watermark, Design & setup
2. Black Imprint software format or Custom format/composition
- Up to 3 ink colors can be printed on logo and check for an upcharge-
3. Your choice of several color check backgrounds and patterns


4. FREE Paste-up proof for your review and changes
5. FREE 3-Day Rush Production
6. FREE UPS Ground shipping from 1,000 to 20,000 quantity

Contact us with any questions at:
Phone: (800) 511-3676 or Email Us
Pricing includes: FREE Logo/Watermarks, FREE Shipping & Rush!

Laser Standard
Voucher Checks

1,000

2,500

5,000

10,000

1 Check Per Page

$149.00

$239.00

$369.00

$599.00

w/ Duplicate Canary Copy

259.00

345.00

522.00

1,025.00

w/ Canary & Pink Copies

456.00

729.00

500

1,000

2,000

2,500

1 Deposit Ticket Per Page

69.00

99.00

159.00

199.00

200

400

600

800

1 Part / 50 Per Book

29.00

42.00

57.00

71.00

2 Parts NCR / Pink Copy

42.00

61.00

84.00

107.00

3 Parts NCR / Canary/Pink

54.00

78.00

99.00

119.00
Start the process by calling us with any questions (800) 511-3676 or complete our
short Order Form.

We've been serving professionals and Businesses, like yours,
since 1984. Let us help you design a more Professional reflection
for your Business Check & Forms. From simply adding your Free
Company Logo to a complete new custom design, we can do it all!

Send us an email and give us a call with questions about needs.




Free Company Logos and Watermark Logos:
For a more professional appearance, your company's logo can be added to your imprinted checks and forms
at no additional charge. Please e-mail us your logo in most any format. Remember that the quality of your e-mail
logo will determine the quality of your imprint. Line art should be at least 300 d.p.i., grayscale at least 600 d.p.i.
We are do our best to accommodate but do not offer free graphic changes to your logo
Free Shipping:
We now offer FREE UPS Ground Shipping for all Imprinted Laser and Continuous Checks/ Form orders...
applies to New Orders and Re-orders 1,000 to 10,000 quantities in the lower 48 U.S. States only!
Thank you to all our faithful clients!
No State Sales Tax:
State sales tax only apply to California deliveries.
Deliveries to all other US States will receive non-taxable client status.
Pricing:
Pricing applies to New and Repeat orders.
Re-orders with new logos, etc, may incur minor composition charges.
We look forward to hearing from you!


2011 Sterling Business Services, Inc.
All Rights Reserved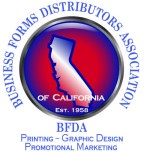 Most Requested
Software Formats

ACCPAC
Dac Easy
Great Plains
MAS 90
Macola
Maxwell
Microsoft Money


MYOB
One Write Plus
Open Systems
Peachtree
QuickBooks
RealWorld
SBT
Solomon
and many more,
even custom formats!