What is Check 21?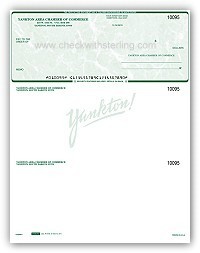 Check 21 is has been effective since 2005.tion process.
While Check 21 will significantly speed up the handling and collection of checks,
the potential for check fraud losses is nearly certain as the conversion process
destroys the evidence of fraud in most cases.
What does Check 21 mean for you & us?
Ongoing updating of effective security features.
Utilize Check 21, checks must meet ANSI standards.
The key for check providers is the continued use of check fraud prevention.
Industry experts are recommending from a defensive position, companies and individuals
should be encouraged to use high security checks with eight or more security features.
Sterling Business Services, Inc. offers a minimum of 12 free security features on every
laser and continuous format business checks.
Check 21 does not provide guidelines or requirements for the printing or creation of the
original check. However, documents must be "image friendly" in order for the banks to
comply with Check 21. Requirements for image compliant documents are outlined in
ANSI X9.7, X 9.90.
All of Sterling's business checks have been code compliant since 2001. Sterling, being
proactive, realized the need to be image compliant and reviewed the latest ANSI
specifications 3 years ago. We utilize the RDM Image Qualifier IQ-X97 to check for
strict image compliance.